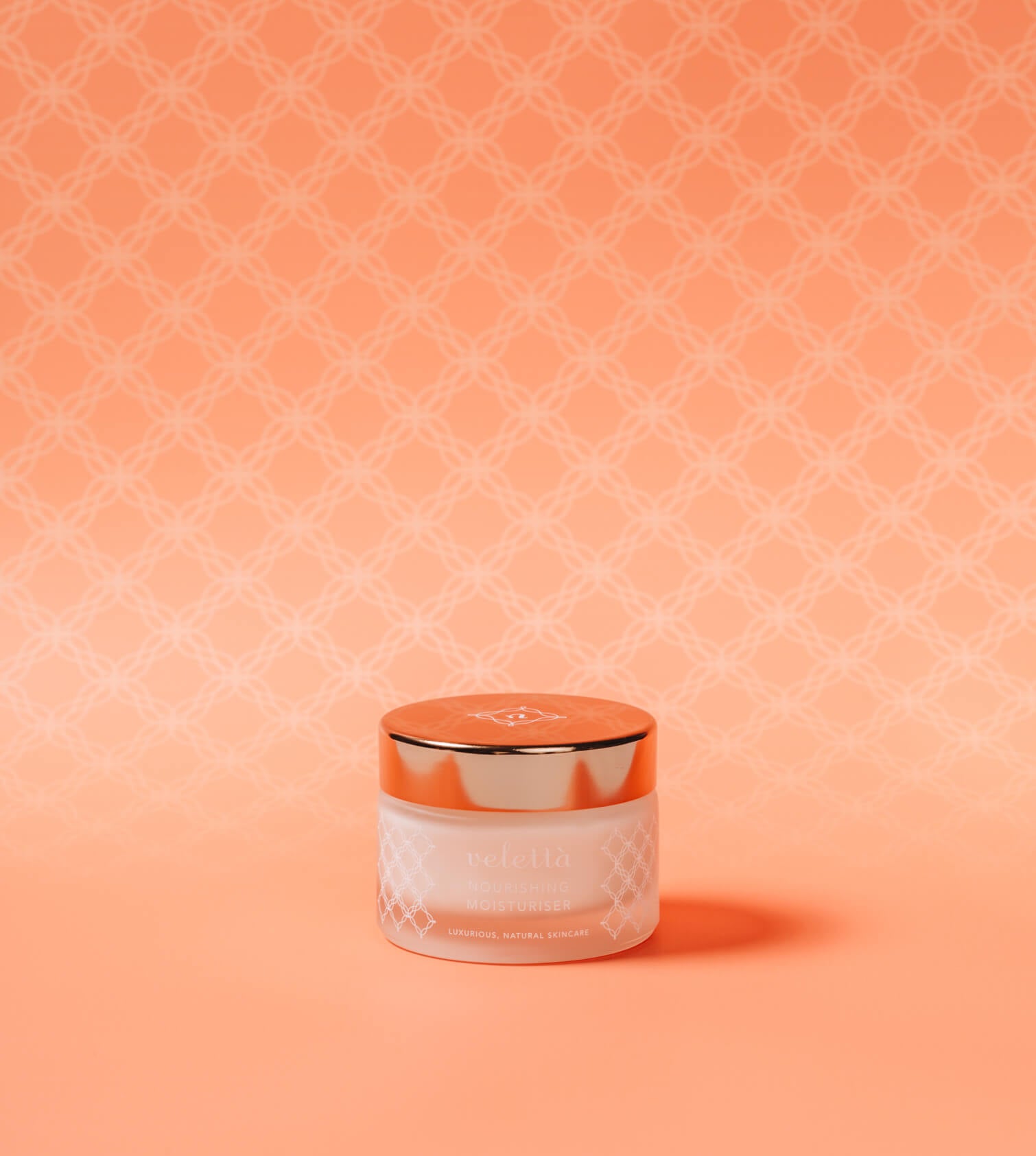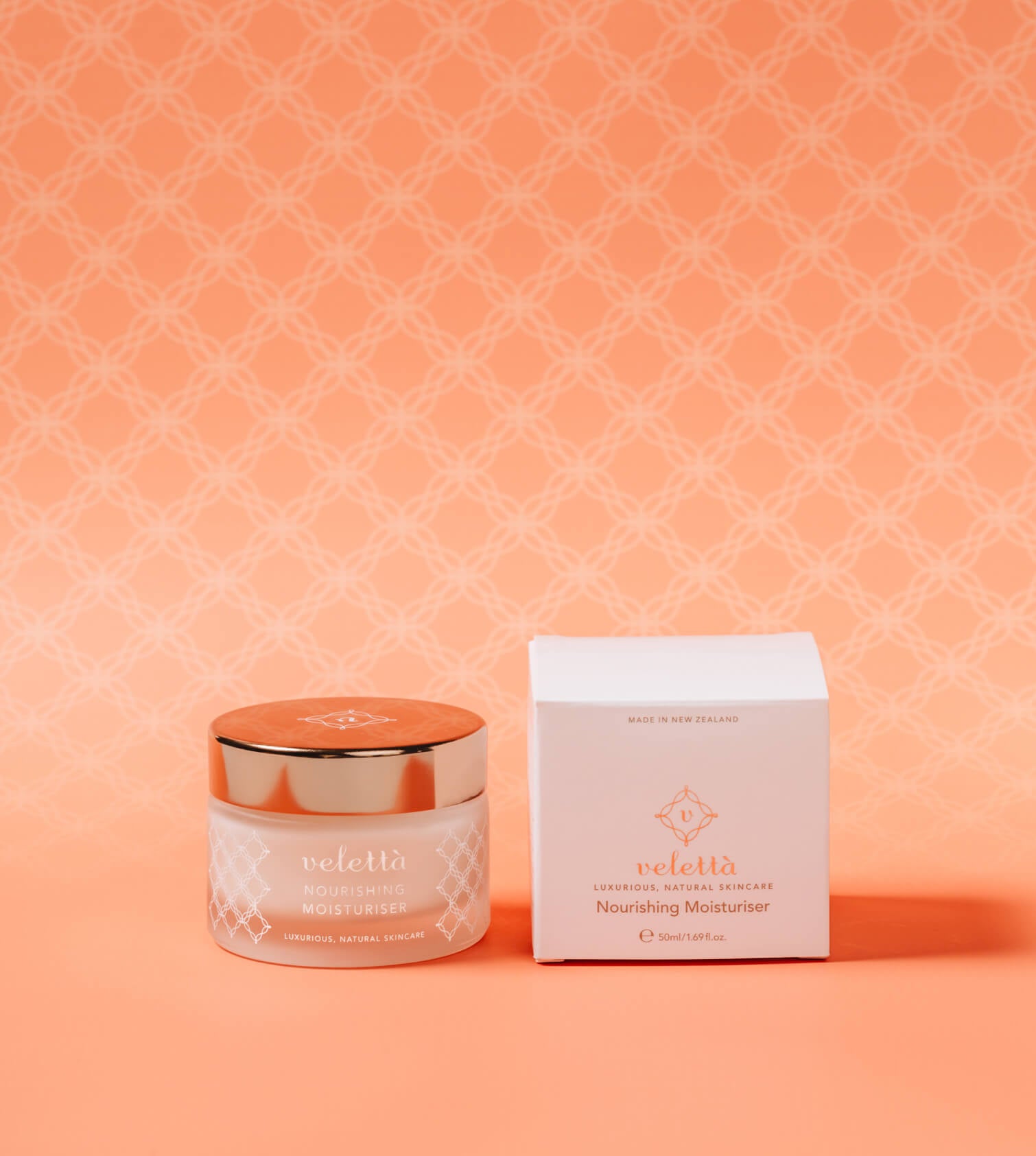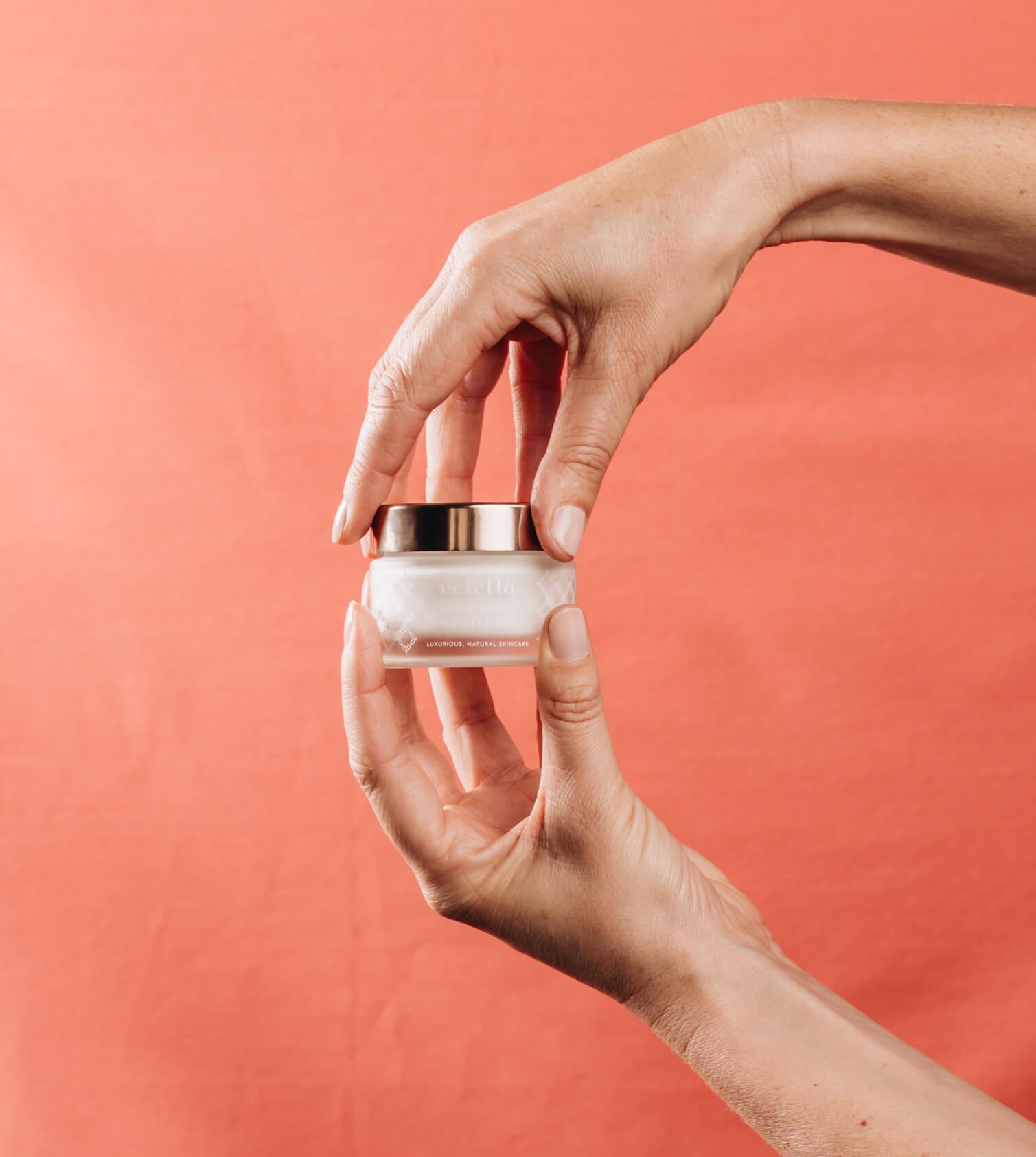 Applying a light yet nourishing moisturiser in conjunction with facial oils is a great way to keep your skin balanced and fresh. This product's natural fragrance provides a refreshing pick-me-up for morning application, as well as working to lock in your skin's moisture to face the day ahead.
Velettà Nourishing Moisturiser includes Argan Oil for its essential fatty acids, and antioxidants that neutralise unwanted molecules, Marula Oil for vitamins C and E, and anti-inflammatory properties, and Frankincense Oil which is known to improve skin tone and elasticity. It's a gorgeously light moisturiser which sits perfectly beneath makeup, if that's what you're reaching for next.
Aqua (Water), Persea Gratissima (Avocado) Oil, Glycerin, Cetearyl Olivate, Limnanthes Alba (Meadowfoam) Seed Oil, Sorbitan Olivate, Argania Spinosa (Argan) Kernel Oil, Rosa Canina (Rosehip) Fruit Oil, Sclerocarya Birrea (Marula) Seed Oil, Simmondsia Chinensis (Jojoba) Seed Oil, Cetearyl Alcohol, Oleic Acid, Tocopheryl Acetate, Jasminum Officinale (Jasmine) Oil, Boswellia Serrata (Frankincense) Oil, Parfum, Jasminum Officinale (Jasmine) Flower Extract, Benzyl Alcohol, Potassium Hydroxide, Dehydroacetic Acid
Omega 3
Omega 6
Omega 9
Vitamin E
Ceramides
Sterols
Ferulic Acid
9 fatty acids: Gondoic acid, Erucic acid, Docosadenoic acid
Key Ingredients
Marula Oil
Marula oil, rich in fatty acids, exhibits moisturising, hydrating and occlusive properties. As the oil is non-irritating and provides a moisturising effect with moderate prevention of transepidermal water loss, average moisture retention properties and noteworthy occlusive effects
Frankincense
Frankincense essential oil has calming effects that are immediately noticeable, making it one of the best essential oils for sleep during menopause. It has been used throughout history as a natural treatment for insomnia and can promote feelings of calmness in the body.
Jojoba Oil
With a high (97% ceramide content) jojoba has anti-inflammatory effect and it can be used on a variety of skin conditions including stressed skin, maintaining skin health and wellbeing, as well as nourishing dry skin conditions. When applied topically, it can help your skin retain moisture and leave it feeling soft, comforted, and nourished. Jojoba oil is an excellent source of antioxidants, vitamin E, and fatty acids.
Meadowfoam Oil
Antioxidants and fatty acids are the stars of Meadowfoam Seed Oil that make it a feast for the skin and hair, endowing it with rich moisturising properties and a luxurious texture. This oil also contains the glucosinolate derivatives, 3-methoxybenzyl isothiocyanate (MBITC) and 3-methoxyphenyl acetonitrile, which have been demonstrated in controlled laboratory studies to inhibit the enzymes that degrade collagen in the skin and to help offset the impact of UVB light exposure.  Sealing in moisture, balancing oil production, contributing to a more even skin texture.
Rosehip Oil
One of nature's versatile wonder oils, jam packed with skin loving nutrients that benefit sensitive, dry or lacklustre skin. And you can use it in your 20's, 30's, 40's, 50's and after menopause.

Rosehip feeds menopausal skin with omega fatty acids (linoleic acid – 51%, linolenic acid – 19% and oleic acid – 20%),
The high concentrations of Omegas 3, 6, 7 & 9, and antioxidant carotenoids, phenolics, terpenoids, galactolipids and fruit acids works wonders:
- helps repair and protect the skin against environmental stresses and visible damage
- moisturises and soothe dry or damaged skin and
- softens the life creases of the skin
- increases skin's elasticity or firmness
- anti-inflammatory action on skin without side effects
Jasmine Oil
Jasmine oil is widely used in aromatherapy for its uplifting and energising effects. Research conducted into the effects of jasmine oil has found that it stimulates the nervous system and increases the brain's beta wave power. This is involved in the brain's ability to actively engage in mental tasks. Participants of one study even found that jasmine oil increased feelings of well-being, alertness, and romance

It contains compounds like benzyl acetate, farnesene, benzoate, indole, linalool, and methyl anthranilate which can have beneficial effects on your body. One study found, when jasmine essential oil was used alongside essential oils of lavender, rose geranium, and rose once a week for 8 weeks for an aromatherapy massage, it relieved symptoms like pain, hot flushes, and depression.
Argan Oil
The synergistic antioxidant effect of vitamin E and ferulic acid combined is key to the maintenance of skin elasticity. The application of Argan Oil "led to a significant increase of gross-elasticity of the skin, net elasticity of the skin, biological elasticity and a significant decrease of RRT."
They also found that using Argan Oil led to a significant decrease in trans epidermal water loss and a significant increase in water content in the epidermis. Rich in vitamin E in argan oil helps maintain skin's suppleness and scavenge free radicals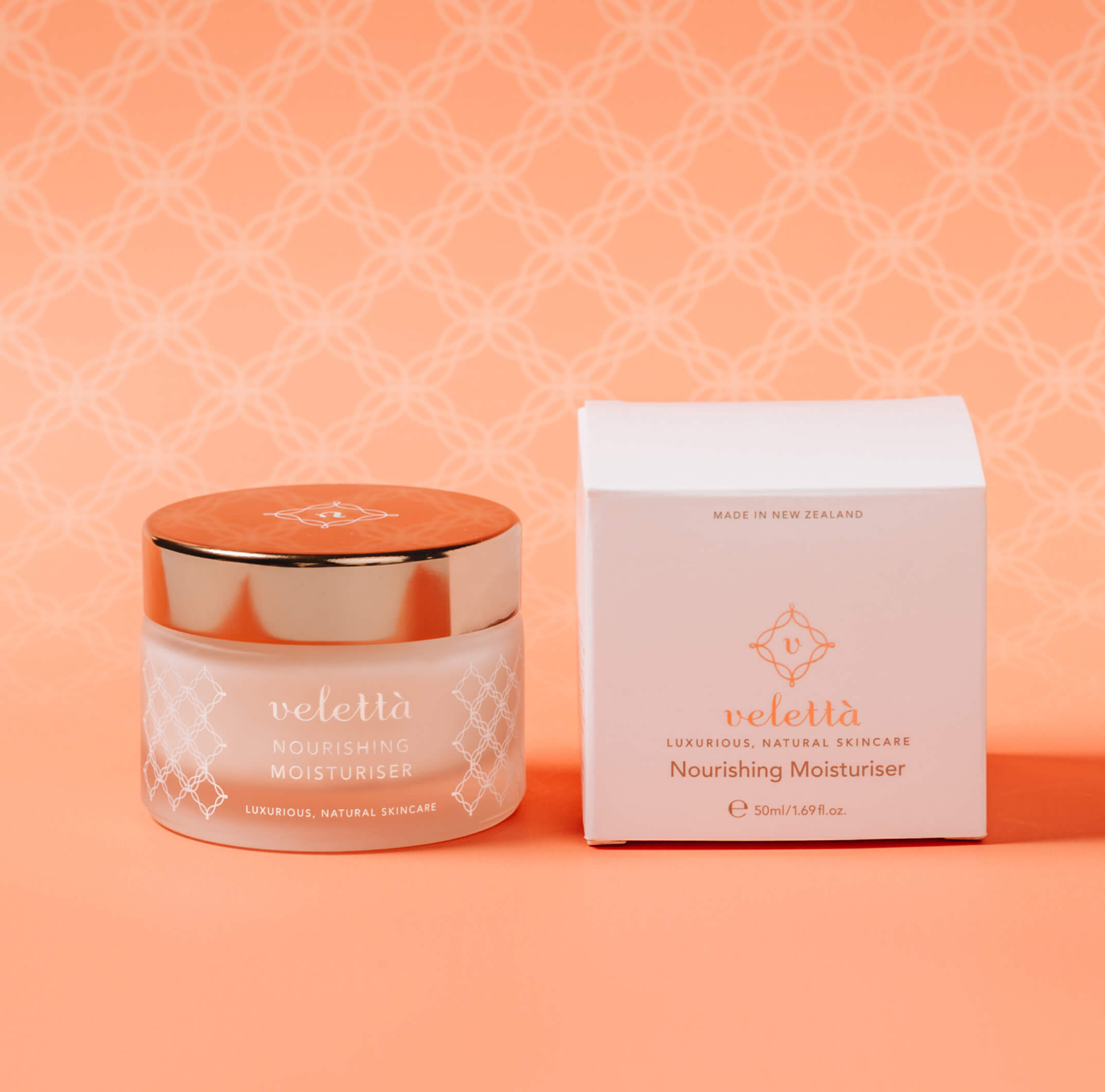 Nourishing Moisturiser
I absolutely love this moisturiser. It's not too heavy, not greasy, it smells amazing and best of all, it's natural & plant based. My skin feels great after using it. Soft & smooth.
Absolutely love all her products
Love It!
I have been using the nourishing moisturiser for a couple of weeks now and have definitely noticed an improvement in my skin, not only appearance but feel. More even skin tone and skin feels soft and hydrated all day.
Nourishing Moisturiser
Really love the nourishing moisturiser, it is rich, creamy and hydrating.
Moisturising cream.
Have used the cream for several years. I have never had the best skin with many open pores . Since using the cream my skin is much smoother with a healthier appearance. I am very impressed.