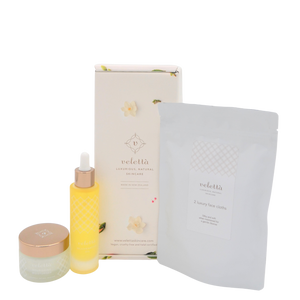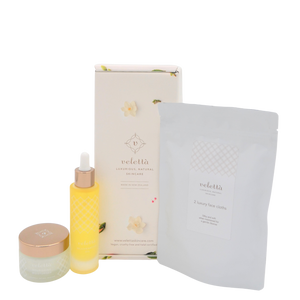 Cleanse and Purify Bundle
Regular price
$ 160.00 NZD
Sale price
$ 128.00 NZD
or 6 weekly interest-free payments of

$ 21.33 NZD
What's this?
Cleanse and Purify Bundle: Contains our Cleansing Oil, Purifying Mask and 2 Luxury Cleansing Cloths. RRP $128 (valued at $160).

Velettà Cleansing Oil: Our Facial Cleansing Oil contains a powerhouse of 10 nutrient-rich, multi-tasking oils that melt into the skin to remove make-up (including mascara), pollution and the day's detritus, leaving your skin feeling clean, balanced, nourished and hydrated. It provides powerful skin hydration while helping to reduce blemishes and softening lines. It works to reduce redness and stimulate the production of collagen and elastin while balancing skin (50ml/1.69 fl.oz).

Velettà Purifying Mask: A once-a-week facial indulgence formulated from beautiful natural ingredients including Kaolin Clay and Matcha Powder to effectively cleanse, remove detritus and exfoliate, leaving skin baby-soft, smooth and bright. It is perfect for all skin types, including sensitive skin. It helps clear pores of excess sebum build-up while firming, plumping and brightening skin (25g/0.88 oz).
 2 Luxury Face Cloths: Our face cloths are silky and soft for a gentle but very effective cleanse that won't compromise your skin's barrier. They work brilliantly with Velettà Cleansing Oil, giving you clean, hydrated and soft skin. These cloths take off every bit of makeup while being amazingly gentle. They are made of 100% PVA (Polyvinyl alcohol) - a water-soluble synthetic polymer. It is biodegradable and PVA fabric breaks down over time and use. 
Such a great way to purchase.
I live the purifying mask.