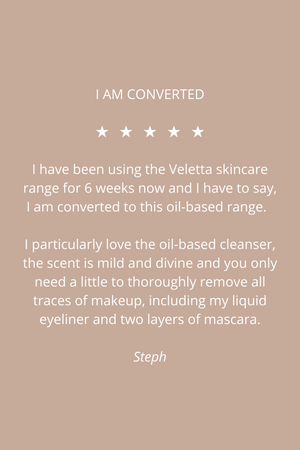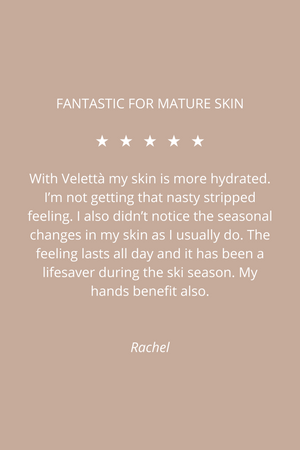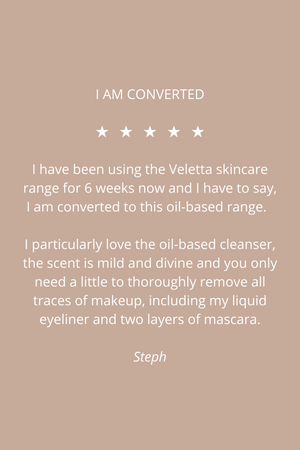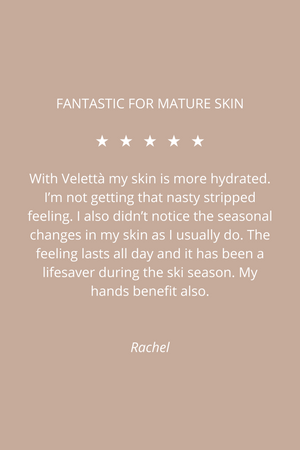 Radiance and Glow Bundle
Regular price
$ 230.00 NZD
Sale price
$ 184.00 NZD
or 6 weekly interest-free payments of

$ 30.66 NZD
What's this?
Radiance and Glow Bundle: Contains our Cleansing Oil, Youthful Glow AHA Radiance Treatment and 2 Luxury Cleansing Cloths. RRP $184 (valued at $230)
Velettà Cleansing Oil: Our Facial Cleansing Oil contains a powerhouse of 10 nutrient-rich, multi-tasking oils that melt into the skin to remove make-up (including mascara), pollution and the day's detritus, leaving your skin feeling clean, balanced, nourished and hydrated. It provides powerful skin hydration while helping to reduce blemishes and softening lines. It works to reduce redness and stimulate the production of collagen and elastin while balancing skin (50ml/1.69 fl.oz).
Velettà Youthful Glow AHA Radiance Treatment: Designed to be used one to three times a week, this powerful, plant-based treatment contains 5% Lactic acid, a gentle but highly effective AHA (Alpha Hydroxy Acid) that helps remove dull skin cells and increase cell turnover for visibly brighter, smoother, more luminous skin. Salicylic Acid unclogs your pores while Liquorice Root brightens and helps to even skin tone. Totarol and Vitamin E work together to enhance skin health while Vitamin E boosts moisture to revitalise and nourish the skin. Hydrating, exfoliating and rejuvenating skin, it promotes radiant skin with smaller pores and fewer blemishes. It also helps reduce pigment and roughness while correcting skin tone and reducing the signs of ageing (50ml/1.69 fl.oz).
 2 Luxury Face Cloths: Our face cloths are silky and soft for a gentle but very effective cleanse that won't compromise your skin's barrier. They work brilliantly with Velettà Cleansing Oil, giving you clean, hydrated and soft skin. These cloths take off every bit of makeup while being amazing gentle. They are made of 100% PVA (Polyvinyl alcohol) - a water-soluble synthetic polymer. It is biodegradable and PVA fabric breaks down over time and use. 
Love the Veletta range
I love all the Veletta range, and I make sure I never run out of both the rejuvenating oil and the AHA Radiance products.