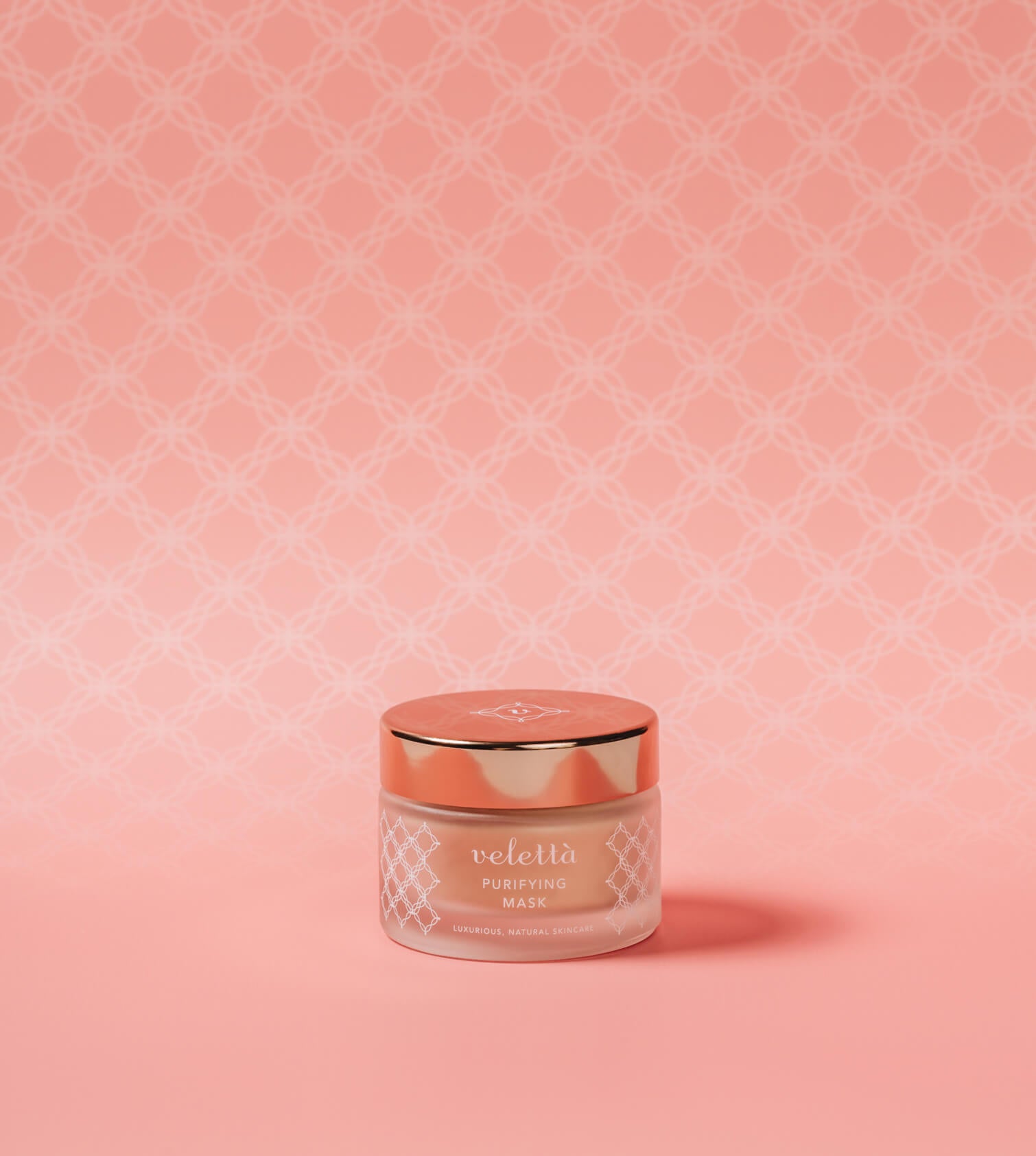 A weekly facial indulgence that removes deep impurities and exfoliates for effortlessly glowing skin.
This multi-action concentrated rinse-off mask contains a heady mix of powerful dry ingredients which are activated with water when you're ready for some 'me' time, boosting the health and texture of your skin. Indulging in a weekly deep facial cleanse and exfoliation is more than just refreshing your skin. It's taking a moment to pause, enjoying some time out, and giving your skin some well deserved love.
Velettà Purifying Mask contains premium ingredients including Kaolin Clay for its ability to absorb excess and its anti-inflammatory properties, Vitamin C to help the skin retain its moisture and promote collagen production, and Neem Leaf for its famous ability to reduce pigmentation and scarring. It's a true powerhouse weekly cleanser, jam-packed with nutrients, antioxidants, minerals and essential fatty acids.
Kaolin, Illite, Ascorbic Acid, Sodium Bicarbonate, Theobroma Cacao (Cocoa) Powder, Camellia Sinensis (Green Tea) Leaf Extract, Azadirachta Indica (Neem) Leaf Powder, Dimethyl Sulfone, Citrus Aurantium Dulcis (Orange) Peel Powder, Rosa Canina (Rosehip) Seed Powder, Citric Acid
Omega 3
Omega 6
Omega 9
Vitamin C
Vitamin E
Magnesium
Polyphenols
Theobromine
Methylxanthines 
Key Ingredients
Kaolin Clay 
Lowers skin inflammation and works as a gentle exfoliant and cleanser

Of all the clays, kaolin is particularly beneficial for dry skin because it has absorbent properties. This means that unlike other clays – which are absorbent (i.e. remove moisture) – kaolin provides all the benefits of clays, without excessive water or moisture loss.

One of the main benefits of using clays is that they can penetrate the deeper layers of skin.
This is important for dry skin because sometimes dry skin is caused by impurities that are clogging up your pores.
So, regular use of a kaolin clay mask is an effective way to draw out those toxins or impurities.
Vitamin C
A vital Vitamin for menopausal and seasonal changing skin.
Vitamin C helps the body maintain collagen, retain moisture and reduce hyperpigmentation. This helps skin appear firmer and brighter when used over time. Vitamin C may also increase the benefits of a moisturizer

Neem Leaf
Neem leaf is famous in ayurvedic texts for having an almost magical effect on the skin. Traditionally used in ayurvedic remedies for its purifying quality, the neem leaves were crushed into a paste and applied directly to unbalanced skin. It provides support in skin pigmentation concerns.
Raw Cacao Powder
The main constituents of raw cocoa include polyphenols, theobromine, and minerals, specifically magnesium. When implemented into product formulations, these bioactive components enable cocoa to have antioxidant, anti-aging, and moisturising functions on the skin.
Matcha (Japanese Green Tea) Powder
High concentration of antioxidants and anti-inflammatory polyphenols in matcha green tea can help to minimise oily skin, fight acne-causing bacteria, protect skin from UV damage, boost blood flow and produce a glowing complexion.
MSM
MSM may be beneficial for skin health by acting as a sulfur donor to keratin. This, in turn, can help strengthen this important protein.
MSM also helps reduce inflammation, which can damage skin cells and cause signs of premature aging like wrinkles. It may even reduce symptoms of problematic skin conditions such as rosacea, which can cause redness, irritation and inflammation of the skin.
One study showed that, when applied to the skin, MSM significantly improved redness, itching, inflammation, hydration and skin color in people with rosacea.
Luxurious mask - skin left feeling and looking amazing
The product was easy to apply, and left my skin feeling absolutely amazing. Beautiful product.